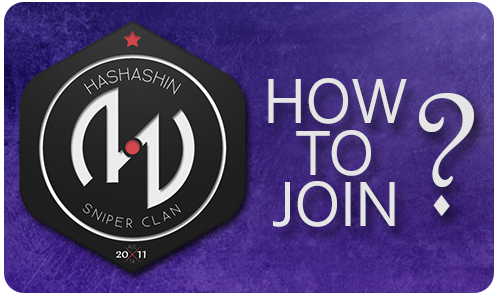 This is probably the most common question that our members get all the time and that's why we decided to make a special post for it.
How to join Hash?
First all of you have to ask this question to yourself, "what can you contribute to Hash?"  The Hash clan is like a family/structure where each member is a gear to make the clan grow, some exemplary features that will help the clan grow: Skills/Attitude/Ideas/Video-Making/Photoshop.
Joining our clan is not an impossible task, if we see that you fit these basic requirements and you exceed them,  and you show us how can you help our clan your chances will most likely be good.
Some tips


Be yourself: Don't try to impress us trying to be somebody else.

Have a good attitude: Just be nice with other players, respectful, be a good winner/loser, and don't try to cheat us with this, we'll catch you anyway.

Skills: This is not the most important point as most of you think, but it would be nice if you have good skills.

Don't ask in games: You can't imagine how annoying this is, we're in the game to play, not to take a lot of petitions each time we join a server.

English: People use to say: "me join hash" - "hash join" - "clan join". We understand if you don't know english, but try with a translator will be better to understand you and for your brain.

Ask our leader: This is more common of what you think, our leader is constantly feeling a bit of stress but he won't put you without create a poll about the candidate and the whole clan will vote.

Harassing: Don't push the Hash members to join us. It's always the same process than our leader.

Clan seeker: If you're just looking for a clan, this is not your clan, we don't want disloyal members or users changing of clan each 2 weeks, or members changing accounts/making new ones every once in awhile, make an account and stick with it, the most simplistic and efficient way of joining Hash is talking, getting to know, and playing with our members, then once one or more Hash members have recommended you for Hash.

Recruitment Process Information
Spoiler:

Spoiler:

The clan is divided in 3 groups: Hash reserves, Hash members(official members) and Hash browns(a year old Hash members)

Hash reserves: They are invited by hash browns to discord. they have access to our official discord channel and are invited to games with official members. They use the hash tag in the game hash brown member(s) recruited them from.

Hash members:They are official members of the clan Hash(Hashashin). They can use the tag of hash in any game the clan is created. they have access to our official discord channel and to our special place "hash home".They also have access to our official Hash forum. they become "Hash browns" after they've been in the clan for a year.

Hash browns: they are the owner and the core of the clan Hash. they can create the clan in any game they play. They also can invite players to our discord channel and add those players in "Hash reserves".

Still in process and there may be changes.

Hash brown members who plays games alone, in consoles,PC, Steam,Etc.

All Hash browns can recruit new members, use the name, images and tag of Hash. they can organize clan wars and everything in the game they want. There is only one condition for this:

you have to be in discord when you play. why? it is cause

Hash Discord will be our point of meeting

.

You Don't need To talk or write anything. it is to stay in contact with all the other members and remain together as a gaming clan and a group of gamers to play and share our favorite games.  

All the members and friends hash browns recruit in the games are not "offical members" but they can be "hash reserves" if the Hash brown want he/she into the clan . Hash reserves have access to our official discord channel and have the chance to become  official "Hash member" if he/she is active for 6 months and got the approval of at least 5 hashers(hash member and/or hash brown)

This is for the people that play games that other hash members currently play.

if there is 5 hash members that play a certain game. the game becomes a "priority" to the clan(it should be atleast 1 "loyal hash brown" in that group). when a game is a priority to the clan, those 5 members can just recruit new members,make them blue in discord and make them an official hash member(the majority of the members of the game have to be agree before the new member get accepted)

if a game got 10 active hash members then the game becomes an "official hash game". and the new members coming from an official hash game will need to make an application and a poll where the Vote rate should be over 80%  and there should be atleast 5 or more votes from the hash members to get aproved.

Regards

The Hash Family.
Admin




Posts

: 21


HashPoints

: 3154


|H|Reputation

: 0


Join date

: 2017-01-17




Similar topics
---
Permissions in this forum:
You
cannot
reply to topics in this forum